Trash and Tourism: The Situation in the Rooftop of the World
From the jungled foothills to the towering peaks, the Himalayas are a sight to behold. Home to 8 of the world's fourteen highest peaks, the mountains have captured travelers and explorers' imaginations for generations – particularly the famous Mt. Everest (Nepali: Sagarmatha; Tibetan: Chomolungma), shared with China on Nepal's northern border.
Tourism is a double-edged sword, particularly for least developed and developing countries, and the Himalayas have not escaped its most ugly bedfellow: trash.
With the remoteness of the high-altitude mountain ecosystem and the role of mountain tourism in the Nepalese economy, it's essential to understand the issue of trash and its greater impacts in the region. This article will go over a brief history of the issue and some simple steps all visitors to Nepal's mountain regions can take to ensure their beauty remains for generations to come.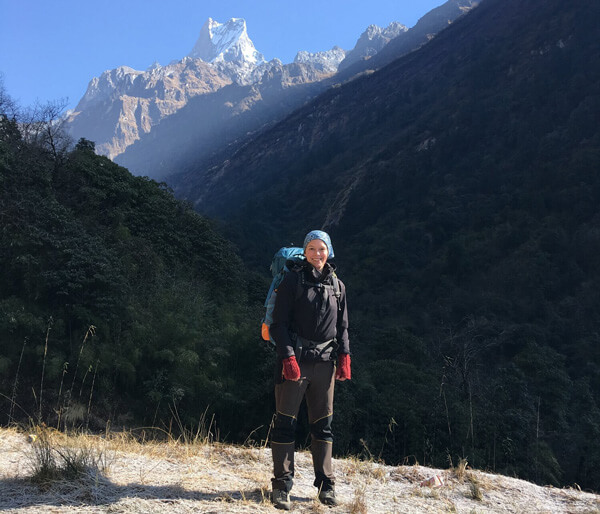 Trash And Tourism In The Himalayas
Tourism in Nepal started in the 1960's following Sir Edmund Hillary and Tenzing Norgay's first ascent of Everest in 1953. Since then, tourism has become one of Nepal's largest economic sectors.
According to the Nepal Tourism Board Annual Report, trekking and mountaineering accounted for 70% of all touristic visits in 2017, which translates to a whopping 176,295 people visiting the mountains from January-December. If each tourist brings one guide and one porter with them as recommended, that number escalates to over half a million people.
There's a lot of positives of tourism in the mountains. A BBC article from 2019 covering the dangers of overcrowding by unqualified climbers on the mountain quoted Sherpa guides who make the summit as averaging $5000-$8000 USD per season.
One of my students, Kami, shared that the money he makes in one spring season guiding on Everest is enough to support his family for the entire year.
But when thinking about the food wrappers, toilet paper, fuel canisters, soda cans, and other solid waste that each person produces at the tea houses, it's easy to see how quickly trash – particularly plastics – can accumulate.
While much attention has been given in recent years to cleaning up Everest's slopes, the trash generated on trekking routes across Nepal is largely absent from the headlines, as well as the landfills and garbage burning that is utilized by tea house owners in the absence of economically viable ways to remove trash from the region.
With tourism increasing in Nepal's mountains, the limited amount of space available for landfills, and the role of the Himalayas as the water source for South East Asia, the impacts of trash pollution pose a significant threat to the environment and public health of the region.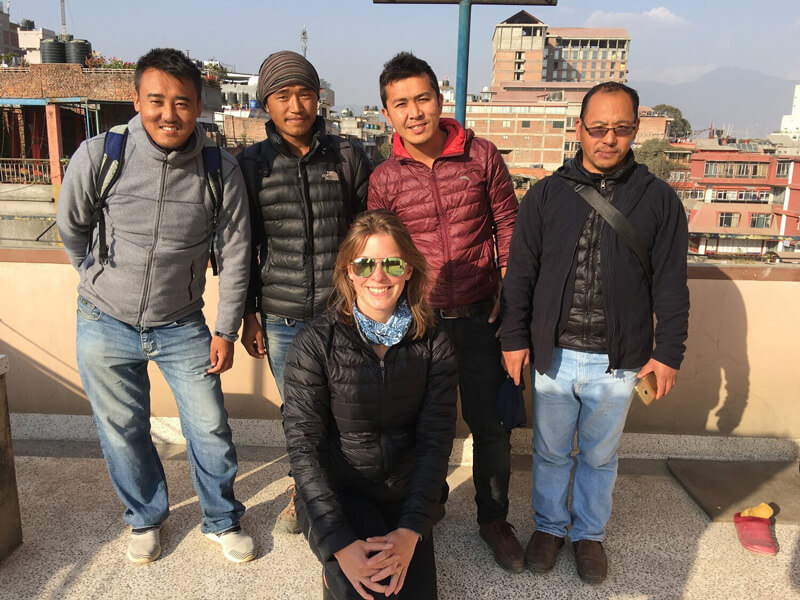 Ways Consumers Can Make A Difference
While the trash situation in the Himalayas is complicated and doesn't yet have an easy solution, there are some simple steps each traveler can take to help reduce the waste they generate during their visit to the mountains:
EDUCATE YOURSELF ON THE ISSUES; KNOW BEFORE YOU GO!
This step is probably the most important, and one I wish I'd done a little more before heading to Annapurna. On my trek, I was at first pleasantly surprised to find that each tea house I stayed in had a trash bin in the room.
Trash bin means they've got trash service, right?
Wrong.
While many Westerners may be prone to make the same mistake I did, due to the cost of sending trash out by yak and the sheer volume of trash being created, most waste in those bins goes into a landfill nearby, over the side of the mountain behind the tea house, or is burned.
Until a more feasible economic solution to removing waste comes available, the better option is creating no waste. Educating yourself can also help you spread awareness among other trekkers or friends who think about their trek and help them make responsible decisions.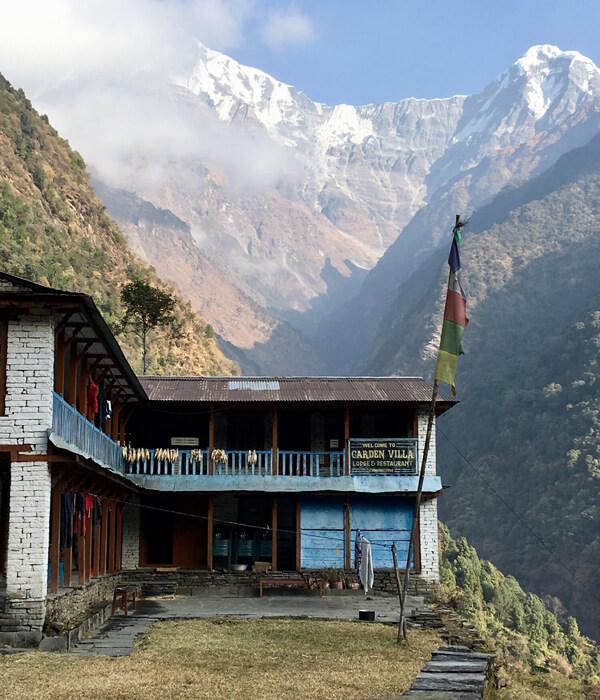 EAT LOCAL CUISINE DURING YOUR TREK
After a long day of trekking, it can be incredibly tempting to go for that familiar coca-cola, packet of ramen, or other foods you might find in your home country's diet. Ordering dishes like Nepal's famous Dal Bhat helps reduce your generated waste by eliminating food preparation wrappers.
It's usually cooked from scratch with ingredients sourced in the area. Dal Bhat has a way of really hitting the spot after a long day, and gives you more opportunity to experience the local culture.
TAKE THE WASTE YOU CREATE BACK OUT
If you need that coke or bottled water, keep the can or bottle. You can crush it and put it in the bottom of your pack for disposal back in Kathmandu – or even better, take it home, for those coming from developed countries.
I brought a small bag with me on my trek for just this reason. Batteries and electronics, in particular, are best taken back home to be disposed of.
In some areas, like Sagarmatha National Park, clean-up programs have been launched where trekkers can volunteer to bring 1kg of trash found on the trail in a special bag to the Lukla airport, where it will later be flown to a Kathmandu recycling center or landfill.
DO YOUR HOMEWORK ON YOUR GUIDE COMPANY
This can not be stressed enough. If a rate seems too good to be true or is significantly lower than the competition, you can almost guarantee that savings are coming directly out of your porter's pocket or out of their budget for lodging, food, and necessities for working.
Porters are also often lowland subsistence farmers who carry to make more money. Many do not have access (or at least consistent access) to basic education and environmentally-related learning opportunities.
If you are in the market for a guiding company, keep a suspicious eye towards those lower rates, and don't hesitate to ask your company if their guides and porters have access to educational and professional development opportunities, like those offered by the Nepalese-run NGO, the Kathmandu Environmental Education Project.
While a true solution to the trash issue in the Himalayas is still in the works, by following the simple steps outlined above, we can each contribute to preserving the mountains for generations to come.
If you are interested in traveling to Nepal (which I highly recommend!), looking into local and accredited volunteer programs like those offered by the Kathmandu Environmental Education Project can help add an incredible dimension to your trip and experience while also giving back to the environment. If we all chip in together, we can make a big and lasting impact in the mountain environment.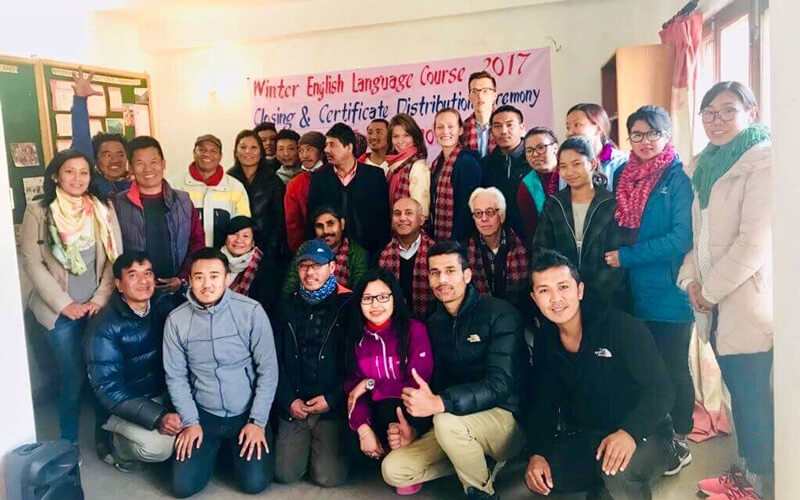 September 9, 2020 Claire Nitsche